Get Your Online Solar Quote Now
Why get your Online Quote from Gold Coast Solar Systems?
Fully Qualified Installers

Fully Qualified Designers

Local Gold Coast Company

Best Solar Products

Exceptional Service

No Sales Pitches

Just Facts

Obligation Free Online Quote
What area of solar are you interested in?
Get Your Online Solar Quote Now
Why get your Online Quote from Gold Coast Solar Systems?
Fully Qualified Installers

Fully Qualified Designers

Local Gold Coast Company

Best Solar Products

Exceptional Service

No Sales Pitches

Just Facts

Obligation Free Online Quote
What area of solar are you interested in?
Solar Power South East Queensland
Solar Panels - Inverters - Energy Solutions
Gold Coast Solar Systems design and install energy systems for small residential dwellings such as a unit, townhouse or family home to complete solar power solutions for small businesses to factory and off grid solar panel and battery configurations. Our design and solar installers work closely with manufacturers and suppliers to make sure you are going to get the best solar PV system for the best value for money. When Energy matters whether you are looking for a 5kW, 6.6kW or 10kW solar system or if you just don't know what solar system you should choose. Then give us a call or simply fill in our online solar quote tool and it will help you find the right solution customised for your needs.
Ask Us All Your Solar Power Questions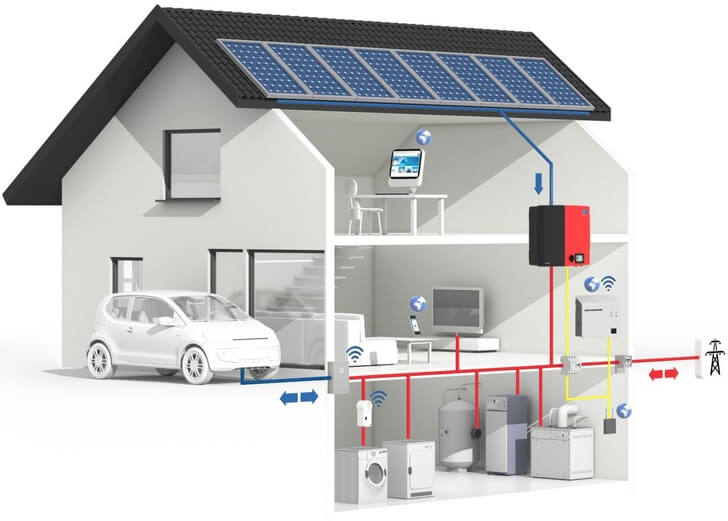 Advantages & Benefits Of Solar Power
The Queensland Sunshine State is the home of Gold Coast Solar Systems and also the state that is leading the nation with solar panel installations Australia wide. The other great advantage of solar energy is that its not running out any time soon. As long as the sun comes up everyday your solar panels are working for you. No matter what solar power solutions you seeking, we can design and install a cash positive system for you from day one.
Endless Renewable Energy Source
The sun is not going anywhere in a hurry and and it can be used on a daily basis anywhere in the World. Its not running out unlike coal and gas and it costs nothing to find it.
Stop Paying Outrageous Power Bills
It really is a no brainer! In most cases your cash positive from day one and you get paid for power you are generating and not using. Domestic and Commercial applications find most of the time that installation of solar panels is a smart positive move forward to saving money.
Solar and Battery Technology
Dependent on your electricity usage, Gold Coast Solar Systems will ask you how you use your power during the day and night and we will create an assessment to see if battery storage is a solution for you. In some environments it is a better solution to use your solar and charge a battery storage solution as well as sending power back to the grid.
Solar Systems Little To No Maintenance Costs
Your solar system has no moving parts and reputable solar panels are made by strict reliable and safe guidelines. This in turn gives you confidence when you are given up to 25 years warranty and up to 10 years on  inverters. The only thing that you can do to continue to make you system efficient is maybe clean the solar panels a couple of times a year to keep them producing as much as possible in renewable energy.

What Size Solar System Do I Need?
When trying to work out how many solar panels do I need or do I need a 6.6kW, 10kW or 15kW solar system, it can all get too confusing. Its like trying to work out mobile phone plans back in the 90s. This is where we can help.
The Size Of  Your Solar System
The size of your system will depend on many things and these will be determined from some basic factors. For example how much is your power bill, how much electricity is used during the day how big is your roof space, is there shadowing on your roof, what type of hot water system do you have etc. A lot of the basics can be determined by using our online solar quote tool. Fill out the questionnaire and we will use our solar satellite software to generate a custom solar solution for your needs. There in no obligation and GCSS will give you an estimate not a guesstimate of what size solar system you will need.
Government Solar Rebates In Queensland
Queensland is blessed with having sunny sky's and lots of free energy shining on our roof tops just waiting to be collected by your new solar system, however there is some even more good news and that is the solar rebates that are provided by the Australian Government. There are two different types of incentives and they are as follows. The (STC) Small-scale Technology Certificates and the Energy Provider Feed in Tariff.
The (STC) Small-scale Technology Certificates
STC's are are a tradable certificates that the federal Government provide when you install a solar system and start producing renewable energy. The price for the certificate that are issued to you all depends on the amount of solar power your system is generating and is also dependent on which area of Queensland you live in.
Gold Coast Solar systems take all the worry out of the customer trading certificates as we do all of this for you and will automatically deduct the clean energy certificates issued to you straight off your proposal. The solar rebates will vary depending on what size solar system you are looking for. For example a 5kW solar system installed on the Gold Coast in 2021 may return approximately 69 certificates at a value around $2450 depending on what trading price is for the day. So a 6.6kW solar system would return approximately 91 certificates (STC's) and a 10kW solar system will return approximately 138 (STC's) of around $4900 once again dependent of what the trading price is on the day.
Energy Provider Solar Feed-in Tariff
When your solar system is producing more power than what you are using, the excess power produced is exported back to the electricity network grid and you are paid a  price for the power supply.
Your energy retailer will let you know what they are prepared to pay you per kWh however Gold Coast Solar Systems does not just stop at installing solar panels, we also find you the best solar feed in tariff in the market.
Find out more about solar energy feed-in tariff plans here https://www.energymadeeasy.gov.au/
Solar technologies regenerate the suns rays into electricity through photovoltaic (PV) panels (Solar panels). The suns light is electromagnetic radiation which releases tiny packs of photons, when these photons come in contact with the solar cells they break up electrons from their atoms. When the electrons flow through the solar cell they create electricity. So if you can imagine your roof full of hundreds of solar cells joined together, this then produces enough electricity to power your home or office.
Did you know that the amount of sun that shines on earth for about 90 minutes, can power the worlds energy needs for the next 365 days!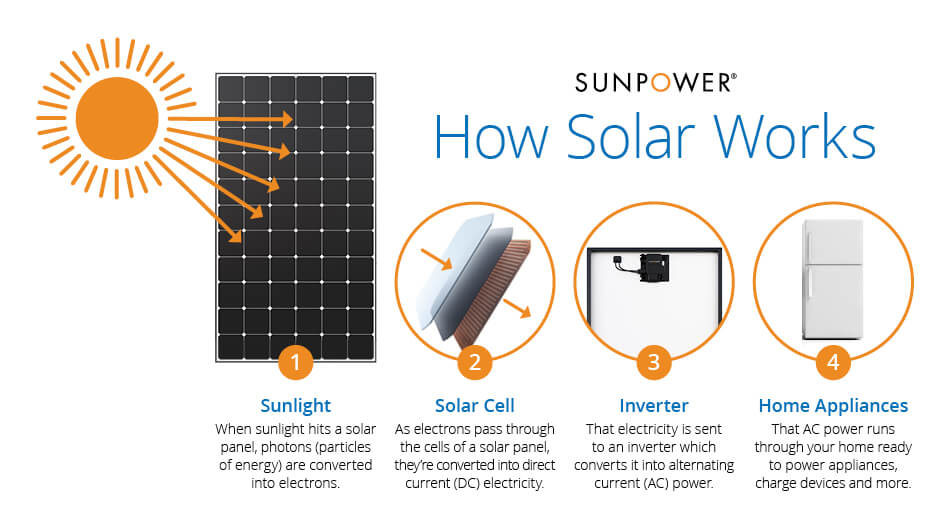 How Does A Solar System Work?
Your average home solar system consists of  the following:
Solar (PV) panels which take the energy from the sun and convert it to (DC) power
Solar inverter which takes the (DC) power from the panels and then converts it to (AC) electricity which is used in all homes. The job of the inverter is to also export excess energy to the main power grid where you will get credited for from your electricity provider.
Experienced and fully qualified Electricians from GCSS to professionally install the system for you.
There are other options for battery storage and commercial applications, however these are the basics that you need to know how it works. Here is a short explainer video of  what we have spoke about above.
Solar Power Services Gold Coast Queensland
Gold Coast Solar Systems (GCSS) should be your first choice to look after your solar power solutions. Our accredited designers and installers have been sourced by their exceptional attention to detail and compliance. This means our solar electricians are always up to date with all the latest Australian Standards and regulations to make your solar installation fully compliant. Our Team will design, supply, install and maintain you solar PV system and monitor your system to make sure it is working efficiently for the future.
Our Solar specialists can perform installations for large and small scale of residential and commercial applications. We also provide solar panel repairs, inverter repairs and replacements when required.
Contact the solar power specialists on (07) 5612 5755 or alternatively use our online solar quote tool. Answer the questionnaire and we can generate an estimate for your premises using your input and our satellite software. You will be sent an obligation free solar quote with no smoke and mirrors. Gold Coast Solar Systems has built its business model on repeat and referral customers and that only happens with exceptional knowledge, service and value for money.

Let us Quote your Premises For Solar Today
Use Our online tool
It Takes A Couple Of Minutes
No Obligation
No Sales pitches
Just Facts