Get Your Online Solar Quote Now
Why get your Online Quote from Gold Coast Solar Systems?
Fully Qualified Installers

Fully Qualified Designers

Local Gold Coast Company

Best Solar Products

Exceptional Service

No Sales Pitches

Just Facts

Obligation Free Online Quote
What area of solar are you interested in?
Get Your Online Solar Quote Now
Why get your Online Quote from Gold Coast Solar Systems?
Fully Qualified Installers

Fully Qualified Designers

Local Gold Coast Company

Best Solar Products

Exceptional Service

No Sales Pitches

Just Facts

Obligation Free Online Quote
What area of solar are you interested in?
Solar Robina - QLD - 4226
Robina Solar Power Professionals
Looking for professional service in Robina solar power? Gold Coast Solar Systems are one of the most credible in Robina for all round solar services, sales and installation of solar panels and systems in general. Whether you are looking for renewable energy for the home, office or larger commercial installations, our qualified solar solutions specialists can assist you with all your energy needs. Call us with any queries you may have or alternatively use our online quote tool for a personalised solar quote for your premises located in Robina.
Robina Solar Statistics For The Area Of 4226
The postcode 4226 of the Robina area has had more than 4800Solar Panel Installations in the area as at January 2021 and has generated more than 22,200 kW (Kilowatts) in total. Note these numbers do not include large scale solar installations. Robina has a population of approximately 23,100 people and the area size is 15/km².
Ask Us All Your Solar Power Questions
Robina Solar Panel Installation Services
Solar Panel Installation Locations For Robina
Abbeytree Court
Acacia Court
Acorn Lane
Altona Close
Andromeda Parade
Anglesea Court
Applegum Court
Aquatic Drive
Arbour Avenue
Ashwood Court
Aspendale Place
Athos Crescent
Auriga Court
Ballyliffen Court
Balwyn Place
Banff Court
Bayberry Lane
Beaumaris Court
Beauty Point Drive
Beecroft Place
Bella Donna Place
Bellbrook Close
Belmore Close
Ben Buckler Court
Ben Lexcen Place
Bentleigh Court
Bermuda Street
Bilgola Place
Binkar Boulevarde
Birkdale Street
Blakehurst Place
Bothwell Street
Brabham Circuit
Breakwater Road
Bridgewater Drive
Brighton Crescent
Broadview Place
Bronte Court
Camberwell Circuit
Cammeray Court
Camphor Wood Court
Campus Crescent
Carlingford Place
Carnoustie Court
Carpentaria Court
Carrum Court
Castaway Court
Caulfield Street
Cedarwood Crescent
Centreline Place
Chadstone Place
Chantilly Place
Chatswood Court
Chelsea Place
Cheltenham Drive
Christine Avenue
Claremont Drive
Clarinda Street
Collingwood Avenue
Collyer Quays
Commerce Drive
Concord Circuit
Coral Tree Court
Cordata Court
Corina Close
Corio Court
Corvus Way
Cottesloe Drive
Cranbourne Court
Cremorne Court
Dandenong Terrace
Denison Court
Dexter Close
Doncaster Court
Drift Away Court
Drummoyne Court
Dulwich Place
Dundee Court
Dunstan Drive
Easthill Drive
Eastwood Drive
Edgewater Court
Edithvale Court
Elfin Street
Emerton Crescent
Energy Circuit
Essendon Place
Eugenia Circuit
Fan Road
Federal Place
Firebird Street
Firestone Court
Flagstaff Place
Frankston Court
Fulham Place
Gabriels Court
Geraldton Drive
Glades Drive
Glen Eagles Drive
Glen Iris Place
Glenalta Place
Glenferrie Drive
Glenside Drive
Goldwater Drive
Golf View Terrace
Grassmere Court
Great Southern Drive
Greenwich Court
Grenaside Court
Hancox Place
Harbord Court
Heatherton Street
Heidelberg Circuit
Heights Drive
Henley Court
Highett Place
Highfield Drive
Highgate Lane
Hillsborough Close
Hindmarsh Court
Homebush Drive
Howea Way
Huntingdale Crescent
Indooroopilly Court
Investigator Drive
Jannali Place
John Partridge Drive
Jucara Avenue
Julatten Drive
Kallista Close
Karrinyup Place
Kensington Street
Kentwood Drive
Kiawah Court
Kidman Street
Kilburn Street
Killarney Avenue
Kingsgrove Street
Kingston Heath Place
Kirralee Drive
Kirribilli Court
Konda Way
Kooyoonga Court
Kuranda Drive
La Perouse Court
Lacerta Avenue
Lake Orr Drive
Lancewood Circuit
Laurel Oak Drive
Laver Drive
Leabrook Crescent
Legend Trail
Leopardwood Circuit
Longueville Court
Lyndhurst Street
Lyra Court
Macedon Close
Maidenhair Place
Maidstone Place
Malanda Place
Mallacoota Close
Malvern Place
Manly Drive
Manor Close
Mareeba Place
Markeri Street
Mawson Street
Medinah Avenue
Medinde Court
Merion Court
Mikado Way
Miling Court
Millswood Court
Mitcham Place
Molloy Place
Mona Vale Court
Montreal Crescent
Moorabbin Place
Mordialloc Place
Mornington Terrace
Mosman Road
Mountain Ash Circuit
Muirfield Place
Nardoo Street
Narrabeen Court
Newport Drive
North Hill Drive
Northpoint Close
Northwood Close
Novar Court
Nunawading Court
Nypa Close
Oakleigh Circuit
Oakmont Street
Oleander Place
Olinda Close
Olympus Drive
Orchid Tree Court
Outrigger Drive
Oxford Court
Pacific Highway
Paddington Place
Para Place
Paradise Springs Avenue
Paravista Street
Parkdale Court
Parkmore Close
Parkside Circuit
Parlour Place
Peach Drive
Peachwood Court
Pearwood Lane
Peninsula Drive
Peppertree Circuit
Picabeen Close
Pine Valley Drive
Pinehurst Place
Pinnacle Court
Pipers Point
Prahran Court
Prestwick Court
Priddeys Road
Princeville Court
Promenade Avenue
Promethean Way
Prospect Court
Protea Court
Pymble Place
Pyrmont Street
Queenscliff Crescent
Queensferry Court
Rainbow Fern Court
Redbud Lane
Resort Drive
Retreat Place
Rigel Court
Ringwood Court
Ripponlea Street
Riverwalk Avenue
Riverwalk Way
Robina Parkway
Robina Station Road
Robina Town Centre Drive
Robinia Court
Ron Penhaligon Way
Rosanna Place
Rosebud Street
Roseville Court
Royal Links Drive
Royal Woods Drive
Ryder Court
Sagitta Place
San Antonio Court
Sandringham Drive
Sawgrass Place
Scots Place
Scottsdale Drive
Sefton Place
Sentry Street
Silvermaple Street
Solitaire Place
Springvale Street
St Andrews Glade
St Ives Drive
St James Court
St John Court
Stadium Drive
Stepney Close
Stillwater Crescent
Straite Drive
Strathmore Court
Sunningdale Circuit
Sylvania Place
Tea Gardens Place
Templestowe Court
Tennyson Place
The Crestway
The Gardenway
The Links
Thorngate Drive
Tiffany Close
Tincurrin Court
Torrey Place
Tranmere Close
Trinity Place
Troon Court
Tuggerah Close
Tullamarine Drive
Turnberry Court
Turramurra Drive
Tusmore Place
University Drive
Unley Place
Unnamed Road
Vancouver Drive
Vaucluse Place
Vinson Crescent
Waitara Place
Warriewood Place
Waterfront Place
Wattle Glen Place
Wattlepark Lane
Wayville Place
Westport Drive
Wild Fire Court
Woody Views Way
Wynnvale Place
Yarraville Street
Yowani Street
Gold Coast Solar Systems provide Solar Installation Solutions for all types of homes and businesses across Robina. Our services include design, sales, service and installation for all solar panel systems. Solar Power is our industry and our business model is reliant upon repeat and referral business. There is only one way to run a business model like this and that is to know your product, give exceptional customer service, be competitive and make sure the solar system is installed with exceptional workmanship, quality and reliability. Our Solar Installation standards are second to none and this is why we are the preferred solar panel installation company in Robina today.
Robina Solar Panel Design
When designing solar installations there are many geographical factors that are taken into account. These include wind factors dependent on the type of installation, annual average weather conditions high and low temperatures, also we must calculate the VOC, strings and other technical specifications specific to your home. Part of the process of designing a solar system for your home or business in Robina is also taking into account your power usage, how much and what times you are using your power as well as the type of  hot water system you have and air conditioning. After all of this, we can then choose and package the best solar panels and inverters  for your home or business.
You can now see that by choosing a 5kW, 6.6kW, 10kW straight out of the Newspaper or TV may not always be your best solar solution and in most cases is probably not. Get Gold Coast Solar Systems to give you a quote on the correct solar panel system for your home or business. You can try our online estimate tool and get yourself a customised  Robina Solar Quote, its quick, easy and free. Just answer some basic questions and together with our satellite software we will not only give you a quote, but we will provide you with all the information and forecasts of your new bill, a return on investment breakdown,  graphs and much more.
Solar Panel Installation In Robina
Gold Coast Solar Systems are industry leaders when it comes to solar power installation in the suburb of Robina. Our Team of Designers and Electricians are fully qualified as well as accredited with the Clean Energy Council of Australia (CEC). We are committed to comply with all Australian Standards and beyond. Our Installers not only follow all the necessary standards they go beyond. Our team are well experienced in the solar installation industry and make sure every installation is of the highest standard, safe, reliable and aesthetically appealing  as well. So if your looking for Solar in Robina or any other suburb of the Gold Coast contact us on (07) 5612 5755 or use our Online Solar Quote Tool. 
Solar Power Services In Robina
We offer a wide range of solar services across Robina for homes and businesses. These services include.
Complete Solar power Installations
Solar Panel Installation and Service
Solar inverter Installation and Service
Repair and Replacement
Hail Damaged Solar Panels in Robina
Residential and Commercial Solar Solutions
Gold Coast Solar Systems is the
most trusted
in Robina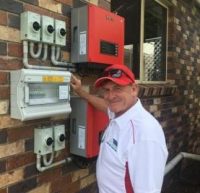 Live Solar Energy Feed For Robina
This live feed shows the sun up and sun down times for the area of Robina you can also view the UV readings by selecting the tab to the top right.
Get Your Robina Solar Quote Now!
Solar Quote Robina
Looking for a Solar Quote in Robina? Gold Coast Solar Systems .com.au are local Gold Coasters. We pride ourselves on exceptional service and installations. We are always here to help whether you are just in the early stages of enquiring, looking for a solar quote or ready to start saving money and installing your new solar power system. 
Robina solar system installations have been saving the people in the area for years, and today may be your first step to stop paying the energy companies and doing some good for the environment. Lets not forget about all the extra cash you will save as most systems are cash positive from day one.
Call Gold Coast Solar Systems .com.au on
(07) 5612 5755
or get yourself a personalised
Robina Solar Quote
 its quick, easy and free!
Find out why Gold Coast Solar Systems is the most trusted in Robina
Watch our video on solar in Robina hopefully it will give you and idea of how committed we are to our business and customers and how easy it is to do an online solar quote with us. We pride ourselves on our service and workmanship which is second to none  and the majority of our business comes from customers telling their family and friends. Subscribe to our channel as we will be bringing more helpful solar tips and tricks and the latest trends in Robina and the entire Gold Coast.
Robina Solar Systems Serviced by GCSS
Gold Coast Solar Systems (GCSS) only use the best products when it comes to Solar not only in Robina but the whole of South East Queensland! We can help with sales and servicing all brands and models however we only suggest a certain solar panel or solar inverter after we have assessed the conditions of which you are using your power consumption.
This may seen silly to some, some may say well sun is sun and solar is solar and that is where you will find the difference with us. We know our products and we know that certain areas and conditions require different types of equipment to get the job done right. Its a bit like buying new car tyres, you wouldn't install suburban road tyres to a car that is continuously off road most of the time, after all a car is a car!
With Solar there are many different criteria that can effect the type of Solar Panel we install, the type of Inverter and whether Solar Battery storage is a cash positive solution for you. Some of these criteria would start with how much power are you using, what time of day are your peaks, is your home effected by shading, what direction does your roof face and how much roof space do we have to work with. Also what is the angle of your roof and what material is it made of. All of these factors and much more are taken into account when we asses the solar system that is best suited for you. We can achieve most of this from our online quote tool and our 3d satellite software, to design a system right for your home in Robina, or anywhere else throughout the Gold Coast Region.
Let us Quote your Premises For Solar Today
Use Our online tool
It Takes A Couple Of Minutes
No Obligation
No Sales pitches
Just Facts